This BFL community is solidifying and creating opportunities
---
The Black Future Lawyers (BFL) program is aims to increase the representation of Black students in law school and the legal profession. Launched by UofT Law in January 2020, BFL now has over 500 registered undergraduate student members.
Starting in 2020-21, BFL expanded its reach by establishing student-run chapters in Ontario at York University (Toronto), McMaster University (Hamilton) and Western University (London). In its inaugural year, BFL Western supported 36 registered members, welcomed over 30 volunteers including guest speakers and panelists, and hosted 14 events. The BFL Western chapter provided their community with law school workshops as well as create an inclusive and welcoming space for like-minded Black students.
---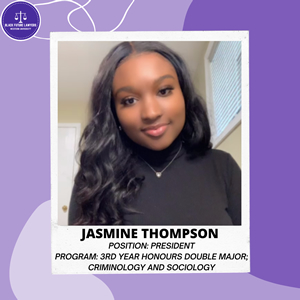 Jasmine Thompson, 2021-2022 President of BFL Western explains the value of having a BFL chapter:
I am honoured to be leading such an amazing team, and I'm looking forward to the many opportunities BFL Western will be able to provide for our members. Over the past year, our club has strived to be a beneficial resource to black students interested in pursuing a career in law, by creating positive interactions and opportunities for our members.

We have been able to successfully demonstrate this throughout the year by hosting inspiring, and passionate discussions with legal professionals, providing one of our members a free LSAT course gifted by the Princeton Review, and building genuine connections within Western's Black community.

If it wasn't for our former President, Daniella Castello, and the excellent job she has done over the past year, BFL Western wouldn't be where it is today. Therefore, I look forward to following in her footsteps by providing a memorable and influential experience for BFL Western.
Why did your team create BFL Western? What goals are you trying to achieve and why do you feel a BFL program at Western was necessary?
Our team created BFL Western because we recognize the systemic barriers that Black students face within the legal community. Our intention is to foster a community of students with shared backgrounds and interests by increasing access to professional and educational resources. Our goal is to significantly improve the state of diversity and inclusion of Black individuals within the legal field, from pre-law (undergraduate) to law school and ultimately to the legal industry. Therefore, a BFL program at Western is necessary because it provides support to Black students that intend to pursue a career in law, as we aim to make a positive impact for our members.
What are your proudest accomplishments over the last year and what do you look forward to doing in the next year?
Our proudest accomplishments over the last year include our law career panel that we hosted alongside several other BFL chapters, our virtual firms week, and becoming an official ratified club with our University Student Council. Through this success, we have been able to support, engage and connect Western's Black students to suitable resources that are relevant to the legal field. Next year, BFL Western looks forward to possibly hosting our events in person which would include touring law firms, having more socials, and engaging in more informative discussions with legal professionals.
How has forming a BFL chapter at Western connected you with other like-minded Black students at Western? What has this meant for your experience on campus?
Forming a BFL chapter at Western has connected us with other like-minded Black students at Western through our events we have hosted such as our online socials, round-table discussions, and other virtual events. Although we weren't able to meet in person due to the pandemic, we still developed great connections with other Black students interested in the legal field. As a result, some feel BFL Western has positively contributed to their overall Western experience, where many great friendships were formed.  The BFL chapter at Western continues to inspire us with their dedication and commitment.  It is because of the work BFL Western and the rest our chapters are doing that will contribute to a more equitable and just future across the legal profession.  Thank you to all our members for their continued support and participation.
---
We are excited by the activities BFL Western has planned for the school year and their involvement in the broader BFL community.    
For more on forming a BFL Chapter go to our Chapter page.
News item image