Introducing the Law Aspiring Black Students (L.A.B.S.) at McMaster University
---
Formed in 2020, this BFL Chapter aims to increase opportunities and provide support for Black students interested in the legal profession at McMaster University in Hamilton, Ontario.
In its inaugural year, L.A.B.S. supported 38 registered members, showcased 27 guest speakers, hosted 14 events with a total of 440 attendees.
We reached out to Kayla Willis-Simmonds, 2021-2022 President, L.A.B.S. to lean more about the evolution of the chapter and the plans for the academic year.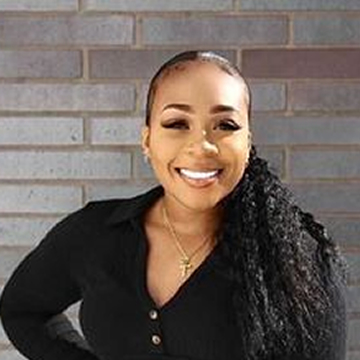 What excites you about L.A.B.S.?
"Hello everyone! My name is Kayla Willis-Simmonds and I am excited to announce that I will be the upcoming President for the McMaster L.A.B.S. during the academic year of 2021-2022. I am beyond grateful to have been nominated into this position, all while leading such an incredible team.
Speaking from experience, I know how influential our club has become for many of the minority students here at McMaster, as it was created on the basis of providing information, guidance, and a viable path avenue for students who are interested in going into the legal field. In spite of the fact, McMaster does not possess a law institution of its own, L.A.B.S. acknowledges this disadvantage and works to counteract this obstacle for our students.
Since the creation of L.A.B.S. lead by Elizabeth Oyegunle, Brianna Fable-Watson, and Nicole Anozie our club has grown immensely, and it is through their great leadership that I will continue on with their mission by providing the McMaster Black and minority community with the necessary tools needed to succeed within the legal sector."
Why did your team create L.A.B.S.? What goals are you trying to achieve and why do you feel a BFL program at McMaster was necessary?
 "Our team created L.A.B.S. based on the understanding that our students' face a large disadvantage when it comes to informing ourselves about the necessary steps needed in order to attend law school. For most of us, this made the legal sector seem that much more intimidating than it already is. Therefore, creating a sublet BFL chapter at McMaster was much needed in order to provide Black and minority students with the confidence to persevere into their careers.
With that being said, the goal of McMaster's L.A.B.S. is geared towards creating avenues for Black and minority students to segue into the field of law. We do this by hosting several career panels throughout the year, conducting general meetings in which we discuss various pressing legal issues experienced in today's society, offering LSAT prep courses, and collaborating with our fellow McMaster law-based clubs to create a fun case-study night in which we offer many prizes. I feel as though having this BFL program in place at McMaster is crucial for allowing Black and minority students to actively and thoroughly pursue their dreams."
What are your proudest accomplishments over the last year and what do you look forward to doing in the next year?  
"I believe our proudest accomplishments achieved over the last year happened both internally and externally. Internally our executive team constantly demonstrated outstanding workmanship as we attacked every event and potential problem as though we were one unit. This really benefited the outcomes of our events and made us stronger as a team.
Another attribute that led to our success was our constant need to stay on top of things and communicate with one another, this inevitably strengthened our relationship both as a team and as friends.
Externally, our proudest moment was being awarded the MSU 2021 Club Collaboration Award based upon our successful collaborative events throughout the year."
How has forming a BFL chapter at McMaster connect you with other like-minded Black students at McMaster? What has this meant for your experience on campus?
"I can honestly say that the formation of our BFL chapter here at McMaster has changed my life in so many ways. Growing up, I'd always known I wanted to become a lawyer. L.A.B.S. turned my childhood dream into a reality by expanding my knowledge, offering guidance, and having me connect with minority students partaking on my similar journey.
I was finally able to visualize my career in a way that made sense to me, creating this newfound passion within me. This self revelation initiated by having an academic organization such as L.A.B.S. has allowed countless students as well as myself to become a part of a community that helps, respects, and understands one another, by counteracting the barriers that tend to hold us back.
McMaster's L.A.B.S. is a powerful club that strengthens and benefits the Black experience on campus."
---
It is great to see the community LABS has created for Black students at McMaster on their journey to becoming lawyers. We are excited for all the exciting projects LABS has planned for the upcoming school year. Thank you to the previous and current executive team for the time and effort put towards creating and building this wonderful BFL community.
News item image