Fourteen leading law firms commit to BFL funding over the next 10 years
Feb 25, 2021 release
Ikran Jama says she knew early in her undergraduate studies at the University of Toronto that she wanted to pursue a legal education.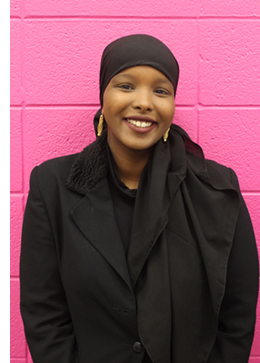 But she was still hesitant.
"When you're trying to understand what a legal education means – and what it means for someone who looks like you – you start to search the web and ask friends if they know anyone who has pursued this kind of pathway," says the Victoria College student in the Faculty of Arts & Science.
In her Twitter search, she landed on the Faculty of Law's Black Future Lawyers (BFL) program. Launched just over a year ago, BFL is a collaboration between U of T Law, the Black Law Students' Association (BLSA), Black law alumni and the broader legal profession. It offers supports and engagement opportunities to Black undergraduates who aspire to go to law school and join the legal profession.
Now, the program is undergoing a significant expansion after 14 leading law firms – Blakes, BLG, Cassels, Davies, Dentons, Fasken, Goodmans, Gowling WLG, McCarthy Tétrault, McMillan, Norton Rose Fulbright, Osler, Stikeman Elliott and Torys – this week announced a combined commitment to provide $1.75 million in operational funding to BFL over the next 10 years.
The funding will help support the program's workshops, an annual conference and mentorship opportunities, as well as future initiatives that include launching BFL chapters at law schools across Canada.
The funding announcement is in addition to $60,000 committed earlier this month by Scotiabank. The program has also been supported by U of T's Division of the Vice-President & Provost, the Faculty of Law and La Fondation Emmanuelle Gattuso.
"We know that Black students face systemic obstacles that prevent them from accessing professional school education," said University Professor Jutta Brunnée, dean of the Faculty of Law.
"It's important that we have a long-term vision for the program that will ultimately help build a consistently strong number of Black students enrolling in law."
In Jama's case, a few clicks allowed to her to follow BFL's social media accounts and sign up for email updates. She says discovering the program was both powerful and inspiring.
"Immediately, I was interested because having something that is run by Black individuals – experts who understand how to navigate this world and understand the barriers that you face – really spoke to me.
"I attended an online event discussing admissions to U of T Law, co-run by BFL. I was able to ask questions that directly related to who I was and how I could approach the application."
---
Nikée Allen, a psychology student at Ryerson University also discovered BFL online when looking for Law School Admission Testing (LSAT) support. She was one of 40 BFL students to participate in a free summer LSAT prep course offered through U of T Law, with earlier support from BLG.
"BFL connected me to U of T Law's Access Program. Paid LSAT prep courses are thousands of dollars, so it was great to be able to get that opportunity without a paywall in front of me."
Since launching in January of last year, BFL has registered over 382 Black undergraduates and matched 134 BFL students with Black-identifying lawyer and mentors.
"My mentor relationship was instrumental in this process," says Allen.
"A lot of people don't realize the level of gate-keeping that exists in higher education [such as] tips that you can put on your application. My mentor Kojo [Hayward] opened a lot of doors for me that I could not have opened myself."
---
Amar-Kareem Guimba attended last year's BFL conference and will participate this year as a current JD student at U of T. The event takes place virtually March 12 and 13, with a post-conference session on March 18.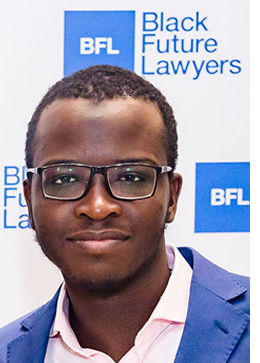 "The conference is very useful. There's mock class, networking opportunities and a session on how Black lawyers got into the profession. Students like myself come in and talk about what it's like being a first-year law student, and what it's like being a Black law student."
Guimba, who studied criminology and philosophy at U of T Mississauga, says he hadn't considered law until others suggested he would make a good lawyer.
"Learning more about the legal profession, what lawyers can do, and how they can give back to the community – there are so many options to choose from," Guimba says. "It's an interesting career path."
U of T Law opened its Black student application stream this fall, a year earlier than the program had initially planned. Applicants must meet the standard academic requirements for admission, but they are offered the opportunity to provide an additional personal statement. At least three reviewers from the Black community will read their application.
"At a time when people are trying to understand the lived realities of what it means to be Black, I can't even express how impressive, how powerful it is for U of T Law to recognize that – and act on it," says Jama.
---
For the immediate future, Jama will have to set aside her plans to attend law school this fall.
Named one of two Rhodes Scholars from U of T last year, she plans to pursue two master's degrees at Oxford University, one in criminology and criminal justice and a second in refugee and forced migration studies.
If all goes according to plan, Jama says she will return to Toronto to complete a JD and pursue a legal career at the intersection of her passions: law, migration and immigration.
"Within my community's specific diaspora, there is a stigma when it comes to the law, legal institutions or institutions that have authority," says Jama.
"But in order for the way we view the law to change, we need people who look like us to enter these kinds of fields to make that change."  
---
Source: UofT News, story by Nina Haikara  | main image: Muna Khalil/View in Lens Photography
News item image