Annual Black Future Lawyers Conference
A full-day of preparation for applying to, and succeeding in, law school. Free event.
---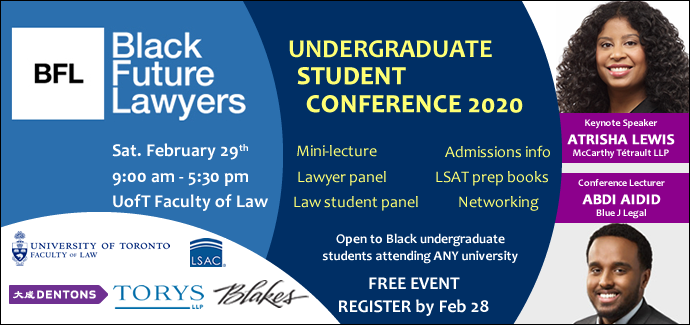 This one-day conference will provide you with the key information that will help you to apply to law school and get the most out of your law school experience.
Through a dynamic lecture, informal discussions and panel presentations, BFL undergraduate students will engage in a fun and interactive program that focuses on law school admissions, law school culture, the legal profession, and the value of a JD degree.
Attendees will connect with lawyers, law students, faculty, admissions staff, and other future law students. A complimentary breakfast and lunch will be provided. 
Conference registration is free. 
The 2020 BFL Annual Conference is presented by the University of Toronto Faculty of Law, in partnership with the UofT Law Black Law Students Association (BLSA), with the generous support of Blake, Cassels & Graydon LLP; Denton's LLP; Tory's LLP; and the Law School Admission Council (LSAC).
---
BFL CONFERENCE AGENDA
8:45 - 9:00 am

Arrival & check-in at the main atrium

9:00 - 9:30 am

Breakfast Meet & Mingle

Complimentary light breakfast

9:30 - 9:50 am

Opening & Welcome

Black Law Students' Association (BLSA)

9:50 - 10:20 am

Keynote Address: Diversity in the Legal Profession and on Bay Street

Atrisha Lewis, Associate at McCarthy Tétrault LLP;  and Bencher, Law Society of Ontario (LSO)

10:30 - 11:30 am

Law School Mini-Lecture: How AI is Changing the Law

Abdi Aidid, Vice-President, Blue J Legal; and Adjunct Professor, UofT Law

11:40 am - 12:30 pm

The Landscape for Black Legal Professionals

Lawyer panel

12:30 - 1:45 pm

Networking Lunch

with alumni, lawyers, BLSA and staff

1:45 - 3:45 pm

 

Alternating sessions:

Law School Admissions (35 min)
What Law Schools Seek In Applicants
Jerome Poon-Ting, Senior Recruitment, Admissions & Diversity Outreach Officer
 
Eye on the Prize: Pre-Law Preparation (50 min)
BLSA panel
 
How to Succeed in Law School and Choose Your Career (50 min)
BLSA panel

3:55 - 4:25 pm

Ask Me Anything 

BLSA panel

4:30 - 5:30 pm

Closing Remarks & Networking Reception
---
Event Registration
An BFL exclusive event. Capacity for 150 BFL undergraduate student conference delegates.
To become a BFL undergraduate student member, please complete the membership form.
To request to attend the event, please complete the event registration form
---